Visiting time over
theater junge generation/Ariel Doron
Germany/Israel
---
Performance, 70 min, in German
A room with tiered seats on both sides of the stage. Puppets and marionettes are artfully brought to life, but before long they are maltreated and put to death. Terror, death sentences and execution scenarios: only gradually does the audience grasp what is going on. The relationship between puppeteer and puppet is used to show the arbitrariness, randomness and also the inevitability of killing. In a drastic way, the play not only makes the experience of violence palpable; it also directly confronts the viewer with the need to take responsibility and show courage.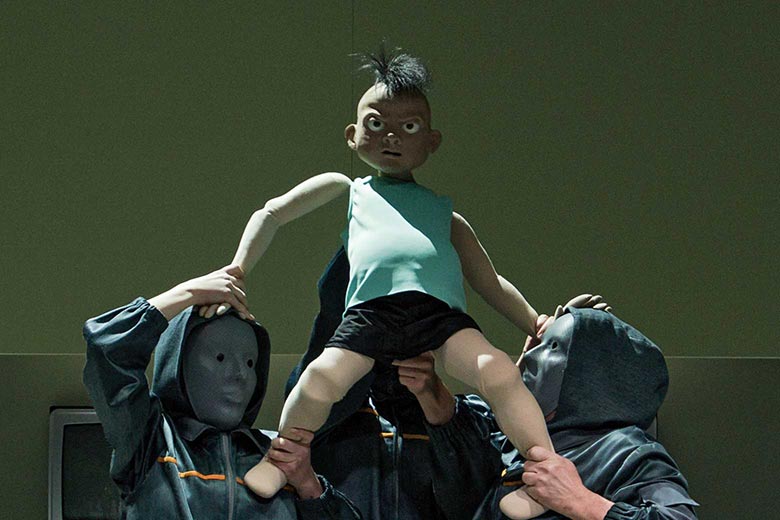 The puppeteer and director Ariel Doron studied puppetry at the School of Visual Theatre Jerusalem and film at the University of Tel Aviv. He works for theatre, film and television. His plays are often satirical comments on socio-political developments. He has taken his production Plastic Heroes, which he presented at UNIDRAM in 2015, to numerous international theatre festivals worldwide. For the opening of the new venue of the Dresden theater junge generation – one of the largest children's and youth theatres in Germany, with three subdivisions and around 600 events a year – he worked with puppeteers from the theatre on the performance Visiting time over (Besuchszeit vorbei).

Concept, Director: Ariel Doron · Cast: Patrick Borck, Viviane Podlich, Ulrike Schuster, Daniil Shchapov, Uwe Steinbach,Tanja Wehling · Stage, Costumes: Grit Dora von Zeschau · Dramaturgy: Ulrike Leßmann · Assistent Puppets, Puppet Costumes: Mai Aylon · Masks: Susann Kotte · Production assistent: Frieda Pirnbaum / Thomas Scheufler · Assistent stage, Costumes: Nino Lange · Stage manager: Marion Berthold, Judith Reimann, Angela Schrötter · Technical direction: Lutz Hofmann · Technical management: Olaf Kuhnert · Lighting: Roger Kunze · Sound: Karsten Seifert, Holger Schanz · Make up: Susann Kotte · Props: Holger Köhler · Costumes, decor makers: Werkstätten tjg · General direction workshops: Andreas Weidner · Decor department: Uwe Scholz · Hall of painting: Carl-Mathias Wieder · Sculpture: Rainer Assing · Puppetstudio: Roland Teichmann, Doreen Wagner · Smith`s Shop: Andreas Arlt · Tailor`s Shop, Dressmaking: Undine Rösner-Ehrlich, Beate Ficker · Joiner`s workshop: Torsten Gaitzsch · Photo: Marco Prill
Kindly supported by Waschhaus Potsdam
Supported by the NATIONALES PERFORMANCE NETZ Guest Performance Fund for Theatre, which is funded by the Federal Government Commissioner for Culture and the Media and the Departments of Culture and Arts of the German federal state.