Black Black Woods
Cirk La Putyka
Czech Republic
---
Performance with live music, 240 min., In English, From 6 to 8.30 pm, the audience is encouraged to take a break. Afterwards no one shall be allowed to enter. We thank you for respecting these rules and for your understanding.
A white stage, inscribed with huge letters. Then painted red. A throne of heavy clay piled up for two mad kings who love and struggle, fail and despair, feel shame and guilt. Positively urged on by live music, Black Black Woods shows two male bodies colliding in an encounter between father and son and everything that exists between them: the eternal conflict of old and young, provocation, rebellion and compromise. But most importantly, this stage piece is a very intimate, sensual portrait of the relationship between two defenceless men, who never cease to look for understanding and reconciliation, without sparing the other in the slightest.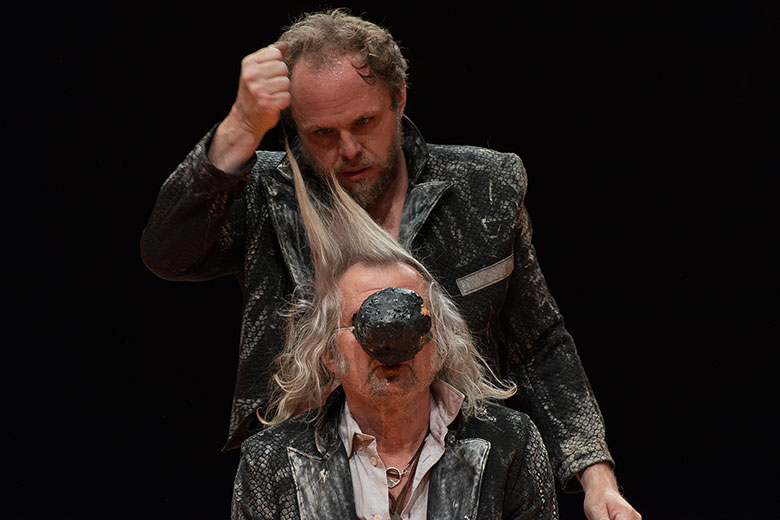 By combining acrobatics, puppetry, dance, music and drama, Cirk la Putyka has developed innovative large-scale circus shows, which have been performed all over the world at a variety of festivals for the past eight years. In Black Black Woods, the group cooperates with the Czech/Greek performance collective RootlessRoot, which deals in particular with forms of contemporary dance in their work.
Director: Jozef Fruček, Linda Kapetanea (RootlessRoot) · Cast: Rostislav Novák jr., Rostislav Novák sr. · Live music: Merlin Ettore, Jan Balcar, Veronika Linhartová, Adam Novotný, Šimon Marek · Costumes: Kristína Záveská · Artistic collaboration: Michal Pěchouček · Lighting: Mathielis Periklis · Sound: Jan Středa · Music: Vasilis Mantzoukis · Production manager: Michal Sikora · Photo: Mike Rafail
Kindly supported by Waschhaus Potsdam

Sponsored by Deutsch-Tschechischer Zukunftsfonds