An unstable air
Laurent Bigot
France
---
Th 02.09.2021, 6:30 PMBuy tickets
Th 02.09.2021, 9:00 PMBuy tickets
Fr 03.09.2021, 6:30 PMBuy tickets
Fr 03.09.2021, 9:00 PMBuy tickets
Schinkelhalle, Schiffbauergasse 4 A
Price category B: 15 euros / reductions 10 euros / pupils 7 euros (Evening box office +2 euros)
Soundperformance, 25 min, nonverbal
On a dreamlike night, glass and plastic bottles, tubes, metal cans and balloons awaken. Together with two compressors and different microphones, they are the protagonists of this air-powered project. They breathe, whistle, gasp and crackle, speak and respond to each other in a highly musical manner. An unstable air is both a theatre of sound mechanisms and objects, staging discarded things as if they had returned to the wilderness and lived there in their own world, in unexplored landscapes with an eerie echo.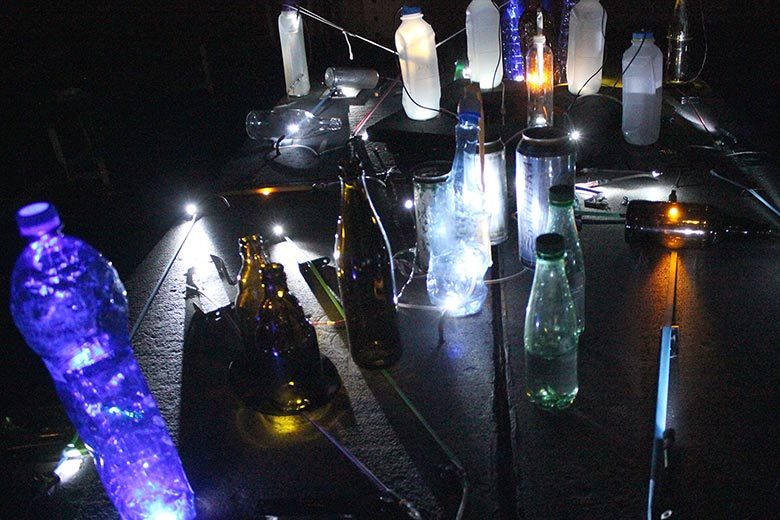 The composer and musician Laurent Bigot has an ongoing interest in the relationships music can enter with other artistic areas, as well as its surroundings, objects or everyday themes. For many years he has been working on sound objects which allow music and scenography to coexist, interfere or directly influence each other. His production LE PETIT CIRQUE was shown at UNIDRAM in 2018.

Director, cast, costumes, stage, lighting, sound: Laurent Bigot · Production: Olivier Masson
Kindly supported by SBG Veranstaltungsservice GmbH

Sponsored by Institut français and french ministry for culture / DGCA. In the context of Objets & Marionnettes, Fokus 2021.