This work about the orange
Cie Les 3 Plumes
France/Italy
---
Interactive performance, 55 min, in German
Again and again, the choreography of two dancers is interrupted by a voice prompting the audience to intervene to keep the show going. This work about the orange is a socio-psychological experiment full of wit and sensuality that combines dance and performance with anthropological research. While it explores power relations between performers and spectators, it also sets traps that subtly confront the audience with the mechanisms of greed and unscrupulousness, which make it clear that even doing nothing is an active gesture.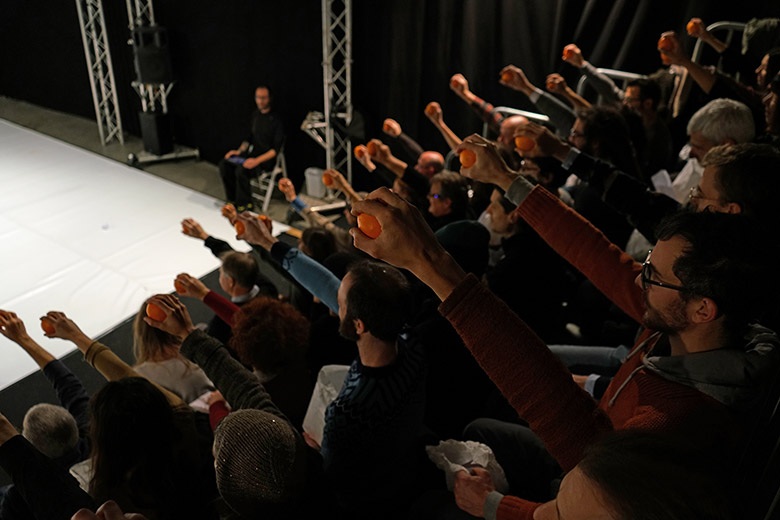 Cie Les 3 Plumes is a French-Italian artists' association, which works in the fields of theatre, music, dance, circus and contemporary art. Its aim is to produce cross-border projects between Italy and France. It was founded as an important part of the resistance to progressive cutbacks in the cultural scene and is a merger of the companies Groupe Approches and TiDA – Théâtre Danse. Marco Chenevier, the head of TiDA and director of This work about the orange, also works as a choreographer, dancer and actor for various companies in Italy and France (among others Romeo Castellucci, Cindy Van Acker, Cie CFB 451). He carries out cross-disciplinary choreographic research and explores the boundaries between language, dance and theatre.
Supported by MiBACT – Ministry of Cultural Heritage and Activities, Autonomous Region of Aosta Valley, TWAIN Performing Arts Residency of the Lazio Region SPAM!

Director: Marco Chenevier · Cast: Marco Chenevier, Alessia Pinto, Andrea Sangiorgi · Stage, Lighting, Sound: Andrea Sangiorgi · Production: TiDA, Cie Les 3 Plumes · Photos: Cristina Valla, Claudio Di Paolo
Kindly supported by SBG Veranstaltungsservice GmbH
Sponsored by Institut français and french ministry for culture / DGCA. In the context of Objets & Marionnettes, Fokus 20.21